6 Ways To Incorporate Reloadable Cards Into Your Bank's Product Offering
Card solutions are growing in popularity, with the global market for reloadable cards predicted to reach $3.1 billion by 2022.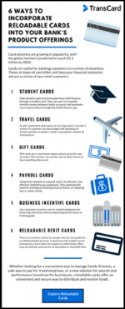 Cards are useful for banking customers in a variety of situations. These six types of card offers will help your financial institution attract a variety of new retail customers.
Learn how to grow your base of potential clients by offering a range of reloadable cards by downloading the infographic.
Tell us more about your unique disbursement needs and we'll set up a personalized demo.